MasterChef | Feature article \ Amina Elshafei
SYDNEY, Oct 28 2013, (THE LAMP: Maria Tan) - It was patience – not patients – that helped RN Amina Elshafei reach the top 12 on the television cooking show MasterChef.
Amina Elshafei is still nursing her passion for cooking, despite missing out on a top 10 spot in the MasterChef Australia competition.
The humble home cook won the hearts of Australian audiences with her cheerful disposition and culinary skills in combining Mediterranean tastes with Asian flavours.
Now the paediatric nurse is back at work at the Westmead Children's Hospital, after being knocked out of the contest in a surprise double elimination.
"Since being eliminated I've gone back to work but in saying that, I'm probably going to be leaving, so that's a bit sad," Amina told The Lamp.
"I love nursing. There's nothing, there's not a moment I regret," the RN explained. "I've enjoyed every single moment, even the bad moments and the unhappy moments, but I think that part of my life is coming to an end and I'm opening a new chapter."
Millions of people tuned in every week to watch Amina battle it out in the MasterChef kitchens, where she cooked up a storm against hundreds of hopeful contestants to rise to her place in the top 12.
"Being on the show was fabulous," Amina recalled. "I was just trying to live that dream of doing what you love the most and for me it was the passion of food and trying to explore that passion."
The RN quickly became a favourite with the show's fans through her use of cooking techniques drawn from her rich Egyptian and South Korean cultural background.
Even cooking with pork proved to be no problem for the practicing Muslim, who was not fazed in the slightest when faced with the ingredient on the show for the first time during a Mystery Box Challenge.
"I'm cooking pork because it's a personal challenge for me," Amina told the [MasterChef] judges during the challenge. "I've put it in my mind that I can't avoid it. It's a part of the competition.
"As a Muslim I don't eat pork or handle any products derived from the pig. Obviously I've never cooked it before, but I'm just going to go by the touch and feel factor, so hopefully that will get me through."
The 27-year-old found the challenge quite difficult, as she was unable to taste the dish and had to rely on her understanding of cooking with proteins to get through to the next round.
"I'm glad I did it because at least for me, I have some sort of satisfaction that I was able to cook it and the judges enjoyed it," Amina said. "If anything, I learnt about a cooking approach that I'd never done before."
The paediatric RN also drew on her nursing skills to edge her way up in the competition, consoling menopausal contestant Debra Sederlans through an emotional crisis during a Pop-up Restaurant Challenge gone wrong.
"That was funny," Amina recalls cheerfully. "She was having a bit of a hard time and rather than fight fire with more fire, we thought it would be better to give her a little leeway and talk her through it and it worked really well."
Amina says there was one key ingredient to her MasterChef achievements, honed from her time as a nurse. Amina chuckled as she revealed to The Lamp that the secret to her success was simply, "patience, patience, patience.
"A lot of it's about patience, being able to be tolerant of time, being tolerant of people's ideas and I think another thing I learnt from being on the show were time management skills," she said.
Since being eliminated from the show, just three weeks before it ended, Amina has being exploring other options available to her within the food industry.
"The next step really is to embrace what comes my way," Amina said. "Since the elimination there's been some really fantastic offers and I guess it's just a matter of seeing what I would love or what I would enjoy the most. Also I've got the cooking classes that I'm hosting come September.
"I want to teach people what I love to cook the most at home so that they can share the recipes with their families," Amina told The Lamp.
The Mediterranean-inspired cooking classes, to be hosted by Amina in Neutral Bay, are a taste of what's to come from the budding chef, who also dreams of opening a Mezze-style tea room, serving Middle Eastern cuisine, in the near future.
Amina's grilled salmon fillets with pomegranate and parsley salad
Serves 4
Ingredients: 4 salmon fillets skin on, 1 tbsp olive oil, 1 tsp salt, 1/3 tsp cracked black pepper, ½ tsp ground cumin, 2 tbsp lemon juice, ½ tsp sumac, ½ tsp of ground garlic.
Combine all ingredients except for salmon. Mix well. Add salmon fillets and cover with dressing. Leave aside for five minutes. Heat a grill pan till hot, but not smoking. Grease the pan with olive oil. Remove salmon from the marinade, shake lightly to remove excess liquid and place skin side down in the pan. Ensure the pan is on medium to high heat so as to not burn the skin. Leave skin side down till it is crispy (3-5 minutes). Brush the fillet with marinade. Turn fillets to seal and cook a further 3 minutes then remove from the heat.
Salad ingredients: 2 tbsp pomegranate seeds, 1 cup halved cherry tomatoes, 1 cup coarsely chopped parsley, 1 tbsp finely sliced spring onion, 1 tbsp roasted slivered almonds, 1 tsp sumac, 2 tbsp olive oil, 1/3 tsp salt, 1 tbsp lemon juice.
Mix sumac, olive oil, lemon juice and salt in a salad bowl, then add the rest of the salad ingredients. Serve salmon and salad on the same dish with a wedge of lemon. Can also be served with couscous or long grain rice.
News | National
$2 label can deter car theft: NRMA
SYDNEY, Jul 7 2008, SYDNEY (AAP: Maria Tan) - Australian car manufacturers are being urged to use a simple $2 security sticker to boost security against rebirthing rackets.
NRMA Insurance said self-voiding labels could be used to identify a stolen car in a similar fashion to a Vehicle Identification Number (VIN).
The labels are cheap, and lower the chances of stolen cars being rebirthed because they cannot be removed, or otherwise tampered with, without being destroyed.
They also contain technology to combat forgery.
Only four international car manufacturers presently installed the stickers in their new cars, the NRMA said, adding that Hyundai was the only manufacturer using the labels on its entire fleet.
"Vehicle identification technology such as self-voiding labels, cost less than $2 and are one of the best defences against professional car theft, a problem which costs the Australian community $250 million every year," NRMA Insurance head of research Robert McDonald said in a statement.
"We'd like to see local manufacturers follow suit and play their part in tackling the issue of professional car theft in Australia."
Mr McDonald said improved vehicle identification was a major focus of the National Motor Vehicle Theft Reduction Council, as the majority of manufacturers still used aluminium compliance plates that could be easily removed by thieves.
The support for self-voiding labels came as NRMA Insurance released its annual Vehicle Theft Ratings, measuring the ability of a car to resist being broken into, stolen and re-birthed.
Subaru, BMW, Audi and Porsche emerged as the standout manufacturers in 2008, with all of their vehicles performing well in the rankings.
Commercial vehicles including the Mitsubishi Express, Ford Ranger and Mahindra Pick-up all rated poorly.
Among the least secure vehicles were the Honda Jazz five door hatch, the Holden Barina five door hatch and the Holden Viva five door hatch.
See Maria's article online at:
The Age: http://www.theage.com.au/national/2-label-can-deter-car-theft-nrma-20080707-33oo.html
Sydney Morning Herald: http://www.smh.com.au/national/2-label-can-deter-car-theft-nrma-20080707-33oo.html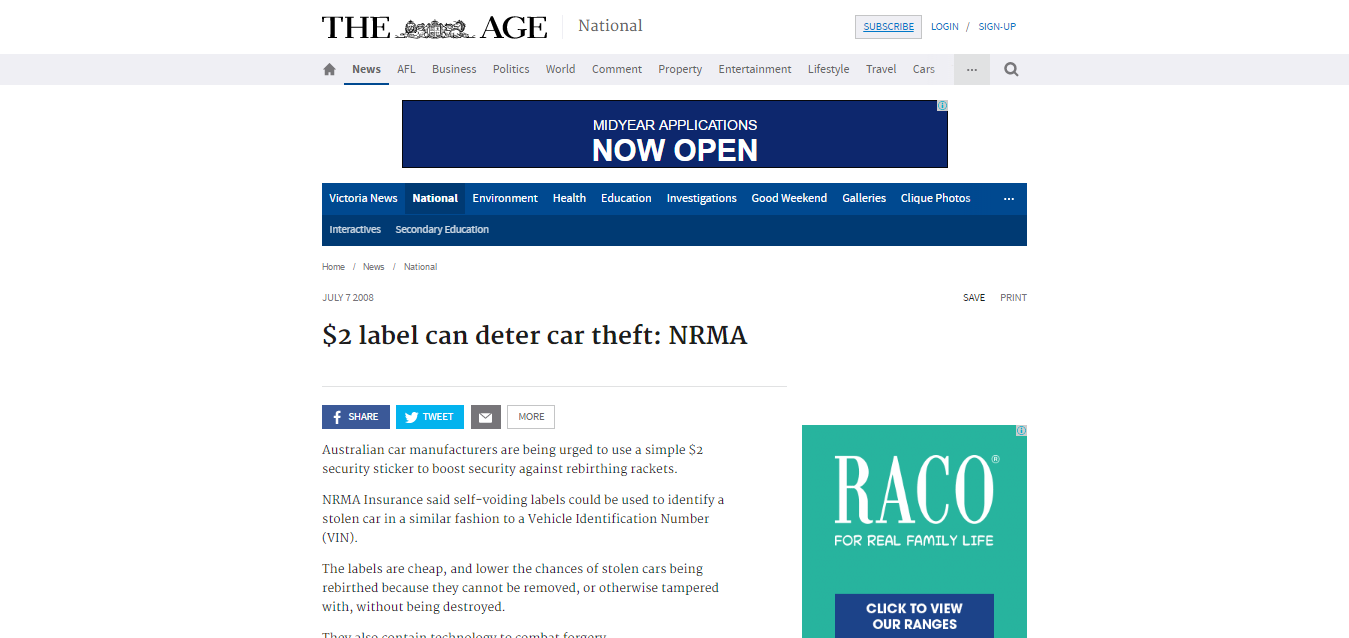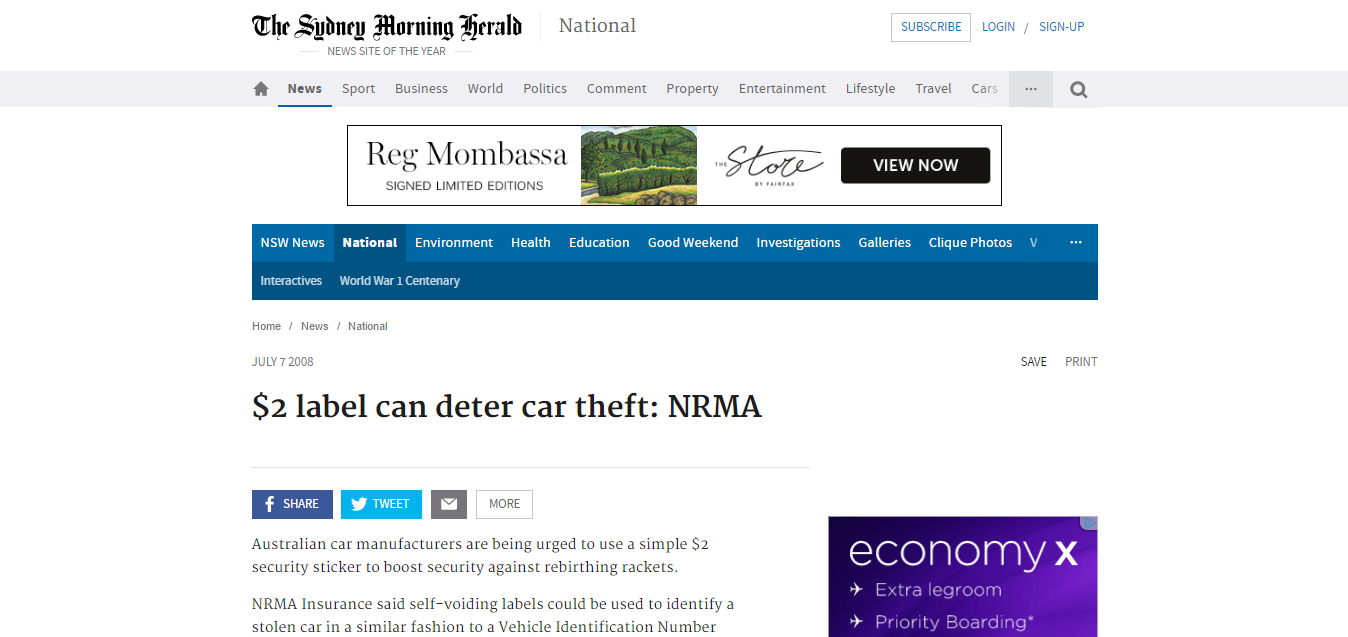 2009 JEA Awards | Hunter Institute Response Ability Prize for mental health reporting
Winner: Maria Tan, for her print article 'Between the Lines'.
Words, photos, graphic design & print layout by Maria Tan for Sydneysider magazine, 2008.
Features former Liberal leader and Lifeline patron, John Brogden.
"This print feature outlined the very public struggle of a high-profile politician with depression and his subsequent recovery and work in mental health advocacy.
"Through his story, the article emphasizes the importance of raising awareness about mental health problems and promoting help-seeking among vulnerable people.
"Conscientious use of quotes, facts and statistics, expert comment, and strong messages of how and where to seek help combined to make this an excellent example of sensitive, accurate and engaging reporting of a mental health issue."
~Judges: Amy Laybutt, Senior Project Officer for Response Ability for Journalism Education, Hunter Institute of Mental Health, and Marc Bryant, Projects Manager, Hunter Institute of Mental Health and former UK journalist.
News | Sport
Caged tigers just pussycats
SYDNEY, Mar 13 2008, SYDNEY (INNER WEST WEEKLY: Maria Tan) - Mixed martial artists battled for supremacy at the Sydney Showground's Amphitheatre on Friday in the 12th Warriors Realm series of cage fights.
In a masterful display of skill applied from a range of disciplines such as Kickboxing, Ju Jitsu, Kung Fu and Capoeira, 14 martial artists competed in 7 matches across 3 divisions throughout the evening.
The highlights of the event include the fiery performance of Concord's Sinosic-Perosh club fighter Chi Kit Cheung, and the controversial appeal made by Japanese heavyweight Masayuki Kono to concede his contention during the match with current Warriors Realm (WR) heavyweight champion, Brad Morris.
With 1:54secs remaining in Round 1 Kono tapped his foot twice on the mat whilst pinned in a 'top four corner hold' by Morris, after which referee and judge Steve Percival concluded a 'tap out' defeat.
Amidst Kono's attempts at an appeal after realizing he had surrendered in the featured International Superfight, the crowd "boo-ed" loudly at the fighter's remorse.
In a split decision made by judges, the Sinosic-Perosh Martial Artist Chi Kit Cheung was defeated by Sean Sutherland in the most notable fight of the evening.
During 2 explosive rounds both fighters executed calculated strikes with composure and flair. With Sutherland's reach being a tough challenge for Cheung in Round 1, he bounced back with a strong 3 hit jab, punch and shin angle kick combo on the opening of Round 2.
Sutherland responded with a simple, yet effective jab and cross onslaught where Cheung maintained his guard and continued to advance on his opponent, looking for an opening.
After Cheung connected a right hook with an audible slap, an enraged Sutherland broke his state of composure seconds within the round's end, producing loud roars of excitement from punters.
For Kempo disciple Andrew Brice (a.k.a. Bricey), winner of his debut lightweight division match, martial arts is a way of life.
"I live at the dojo with my sensei", Bricey said. "I was originally classed as a featherweight but had to gain more weight because my opponent dropped out".
Working within financial services, Bricey kept his passion for Kempo alive by using his spare time to train for the Mixed Martial Arts (MMA) competition over a 3 year period.
The untold story of these cage fighting competitions unfolded behind the scenes at the Thursday night weigh in prior to the event.
Dave Frendin, replacement fighter for headliner Gordon Graff wandered in from the Central Coast after a hard day's work, dressed in a blue and yellow shirt with a plumbing logo across the back.
"We know you're all tired so we'll just do these weigh ins and then there will be food platters served", said WR President Shane Balmer.
Although opposing contenders, there was no animosity between these men as they sat down and ate meals together, and talked about their day.
It is this same dignity and respect these men carry with them in the cage, in stark contrast to the 'brawling thugs' they have been labelled.
As WR Event Coordinator Jenni Walke put it, "Once you get to know them, they're pussycats".
(Words & Photos: Maria Tan, Inner West Weekly)
Feature | Investigative \ Historic Federal Court Decision
Determination brings native title
Recognition of Indigenous land rights on North Stradbroke Island is paving the way for new jobs, new development and changes to land use, Maria Tan and Kate Johnston report.
Americans know July 4 as Independence Day; Minjerribah's traditional owners might well call it that too.
On July 4, 2011, the Dunwich Community Hall became the Federal Court of Australia for a few hours, as Honourable Justice Dowsett sat to deliver his final determination on the matter of native title over North Stradbroke Island and its surrounding waters.
The claims covered the majority of North Stradbroke Island, Peel Island, Goat Island, Bird Island, Stingaree Island, Crab Island and the surrounding waters of Moreton Bay. It was 16 years since islanders Ian Delaney and Dale Ruska first lodged a claim for native title over NSI.
It was a historic moment for Minjerribah, for Queensland and for Australia, and the first successful native title claim in southeast Queensland.
The Federal Court determination recognises exclusive native title rights and interests over approximately 2,264 hectares of land, and non-exclusive native title rights and interests over approximately 22,639 hectares of land and approximately 29,505 hectares of the Moreton Bay Marine Park.
It was a day of joy, emotion and pride – and it heralded a new future for Minjerribah; a paradigm shift in how the Island's natural resources will be managed, how its profits will be shared, and how its Traditional Owners will be respected.
The Quandamooka people now have recognised rights including the right to live and conduct traditional ceremonies; take, use, share and exchange traditional natural resources; conduct burial rites, teach about the physical and spiritual attributes of the area; and maintain places of importance and areas of significance.
Native title claimant Ian Delaney believes the community has made the right decision. He says it is up to the younger generation to move forward. "For this to work now, everybody's got to pull together," he told SIN. "We've got a commitment from the state government that whatever we put our hand to, they're going to support us. And I think Anna Bligh will say the same thing. And if the LNP get in next year, they'll say the same thing," Mr Delaney said.
For Aunty Margaret Iselin, President of the Minjerribah-Moorgumpin Elders in Council, native title rights on the Island are about recognition. "Of course you've gotta work with the government on all these issues and that's how it should be," she said. "You draw up ILUAs [Indigenous Land Use Agreements] and you have to sit down and talk, and talk, and talk to make it happen," Aunty Margaret said.
She says those in doubt about the determination should attend consultation meetings. "They need to go along to the meetings. They need to go along and ask questions to ease their minds on what issues they want to bring up," Aunty Margaret said. "It's no good you being in the background and saying things and you don't know what you're talking about.
"It could be a good determination you know, but it means that we've all got to pull together on it; that's the main thing," she said. Redland City Council's (RCC) North Stradbroke Island Councillor, Craig Ogilvie, told SIN there would be new plans that "will necessitate changes to the development patterns in the townships", but that otherwise, Council's role will not dramatically change.
"Our major role, if anything, is going to be in the land local area planning that will be done for the three townships," Cr Ogilvie said.
"There will be some minimum levels of new development because of the determinations, but there will have to be a lot of planning done in conjunction with the community to work out what other development might happen, if any.
"The economic transition planning that is being done now is critical to making sure that we continue to exist as a community with high levels of employment and prosperity," Cr Ogilvie said. "I'm skeptical about the potential of eco-tourism to replace mining as a source of jobs, but there is no doubt there will be some jobs [in eco-tourism] and in national park management and construction."
One instance of new jobs will be in the running of the Island's six campgrounds, which will move from RCC management to a corporation owned and run by the Quandamooka people. This transition has been underway for some time and can become operational now that native title has been determined.
"The new management of the campgrounds will bring a much better business focus and a big capital injection to the Island," Cr Ogilvie said.
Redland City Council has also been establishing new planning groups, with the state government and the Quandamooka people, to tackle community consultation and future land use planning on the Island. A body corporate called the Quandamooka Yoolooburrabee Aboriginal Corporation has been set up to manage the rights of all native title holders, while RCC and the state government have established four new groups to manage community consultation and planning for national parks, recreational reserves, township developments and land bank planning.
How the land and waters will be used under native title is set out in two Indigenous Land Use Agreements (ILUAs) between Redland City Council, the state government and the Quandamooka people.
National Native Title Tribunal deputy president John Sosso told SIN the ILUAs are currently undergoing registration with the tribunal.
"They'll be placed on a register of native title interests and will be binding on the parties for the length of the agreement. The registration of those Indigenous Land Use Agreements will result in the consent determinations made by the Federal Court [in its Dunwich sitting] becoming fully operational," Mr Sosso said.
Mr Sosso said only general details from the ILUAs would be made public, as both contracts are commercial in confidence.
While unable to disclose details of the ILUAs, Kevin Smith, chief executive officer of Queensland South Native Title Services, legal representatives of the Quandamooka people, told SIN the agreements "could be along the lines of being able to use that land for business opportunities and broader economic opportunities.
"The land use agreement is essentially the framework to allow that. To give certainty to both parties and allow opportunities in the future to plan for the economic independence of the Quandamooka," Mr Smith said.
One of the original applicants to the native title claim, Dunwich resident Dale Ruska, withdrew in protest in 2001 because he had lost faith in the process.
"The Aboriginal people were forced to compromise throughout the whole process. The state government would not agree to offer any benefits packages to the Quandamooka people or any compensation, unless the Quandamooka people agreed to validate all invalid acts and free the state government from any future native title compensation liabilities. That was a condition of settlement. "So the Aboriginal peoples' hands were tied and they more or less didn't have a say over the outcome, apart from accepting what the state government was offering," Mr Ruska told SIN.
Spokesman for the Belgian-owned sand mining company Sibelco, Paul Smith, said the mining company had "tried to discuss an ILUA with the Quandamooka people, separate from the native title process.
"There was a lot of pressure on the Quandamooka to complete the state ILUA in order to get the native title process going, and they elected that they didn't want to enter into a Future Acts ILUA with the company," Mr. Smith said.
LNP State member for Cleveland, Mark Robinson, says actions by the Bligh Government have severely limited the income the Quandamooka people could otherwise have earned. "The mine was prepared to put up $28 million dollars in its own ILUA to the Quandamooka people," Mr Robinson told SIN.
"Now that money has been largely lost because of the way that the government has locked in the legislation." "Until they develop a planning process and the town plan, there's a lot of uncertainty created by the ILUAs — the state and Redlands Council ILUAs," Paul Smith said.
"A lot of people don't understand how it [native title] works. "There's a lot of myths and a lot of emotion and a lot of expectation that needs to be managed until people figure out how it all really works in practice," he said.
He stressed that "differences of opinion" between Sibelco and the state government "have nothing to do with the Quandamooka people".
"Underlying tenure is always an issue between the state and the native title holders," he explained. "We hold mining leases and those mining leases are still granted and when we're finished with them it'll all go back to native title land or some other tenure."
During consent determination celebrations at Dunwich on July 4, Premier Anna Bligh revealed that mining royalties would be paid to the Quandamooka people until mining ceases on the Island.
Ian Delaney told SIN that royalties could range between $2 million and $5 million each year until mining ceases, which he described as "peanuts".
"Because these fellas [Sibelco] don't earn billions of dollars, we only get peanuts actually," he said.
Paul Smith said: "We're not paying the Quandamooka people directly. We pay our normal royalty to the state government and they must be giving them a percentage of that."
State Environment Minister, Vicky Darling, told SIN mining royalties would be "based upon the formula in the Aboriginal Land Act 1991, which is dependent upon the amount received by the state each financial year".
Anna Bligh says native title rights are essentially about legal recognition of the Quandamooka people as traditional landowners. "Native title does not override freehold, people who own freehold title on the Island continue to do so," the Premier said. "This does not in any way interrupt the title of other land holders, such as people who own homes on the Island.
"What it means is that some parts of the Island can and will be declared as Aboriginal land for the purpose of Aboriginal business. That means that national park and conservation areas can and will be jointly managed with Quandamooka people and they will have legal recognition for that. "In essence, it means a legal recognition that the Quandamooka people have always and will always be the traditional owners of this country."
News | World \ London Olympics
Health service honoured at London Olympics
SYDNEY, September 28, 2012 (THE LAMP: Maria Tan) - Hundreds of British nurses danced their hearts out at the London 2012 Olympic opening ceremony, in a glittering tribute to the British National Health Service.
More than 600 nurses followed hot on the heels of Daniel Craig's James Bond, in the opening ceremony of the London 2012 Olympics.
The National Health Service (NHS) nurses appeared alongside Harry Potter author, J.K. Rowling, in a joint tribute honouring popular British children's fiction and the nation's national health care system.
Founded in 1948, today the NHS provides the vast majority of free medical treatment and medicines to British residents. Despite being one of the worlds most highly regarded health systems, the NHS has been under attack from austerity measures by the conservative British government. More than 30,000 NHS workers lost their jobs in 2011 and the service has been opened up to sweeping privatisation.
East London NHS Foundation Trust nurse, Matthew House, was one of the volunteers who took part in the opening ceremony.
"What a show to be involved in and what a night," Matthew, a primary care liaison nurse, told the Nursing Times.
Billions of viewers from around the world watched as the NHS nurses lit up the Olympic stage, spelling out the letters NHS and GOSH (for Great Ormond Street Hospital) in glowing blue lights.
"I was trembling with nervousness as we waited to enter the stadium," Matthew recalled. "Then on entering the stadium, the roaring spectators got louder as we danced with the beds and children."
The highly choreographed routine included a lively jazz swing dance by NHS nurses, patients and staff from the Great Ormond Street Hospital, who also shared the stage with a cast of giant villains created by British authors of children's fiction.
Dancing around enormous puppets of fictional villains from Voldemort (J.K. Rowling), Cruella de Vil (Dodie Smith), Captain Hook (J.M. Barrie) and the Red Queen (Lewis Carroll), the performers also had to display their acting ability when hundreds of Mary Poppins floated in on umbrellas to help chase the villains away.
"Suddenly the difficulty of remembering the routine was gone as the crowd joined us with their pixel lights and roared back their delight," Matthew said.
He was one of the 800 NHS nurses who volunteered to take part in the opening ceremony, which required a commitment of up to 150 hours for training and rehearsals. Almost all of the volunteer dancers in the ceremony also worked for the NHS.
The theme of the ceremony was celebrating the creativity and exuberance of British people, as well as the contributions that the UK has made to the world through innovation and revolution.
Images projected on the screen during the NHS tribute included an ultrasound scan of a baby in the womb. The technique of using ultrasound in antenatal care was developed by, among others, Professor Ian McDonald and Dr Stuart Campbell, who are both Scottish.
News | National \ Newswire
New police boat to lead Pope
SYDNEY, July 8, 2008 (AAP: Maria Tan) - The largest police ship in the southern hemisphere has been launched with a splash ahead of its maiden voyage at World Youth Day in Sydney.
The Nemesis' first official duty will be to lead Pope Benedict XVI's 'boat-a-cade' procession on July 17 on Sydney Harbour, but will be on standby if needed until then.
Two years in the making and costing $11 million, the Nemesis can operate in stormy conditions, reaching top speeds of 27.5 knots over 1,300 nautical miles.
Police Minister David Campbell's wife, Edna, christened the 32-metre vessel in Sydney today, splashing it with champagne after the bottle failed to smash against its bow.
Mr Campbell said the vessel was capable of patrolling the NSW coast for extended periods and was able to stay at sea for up to 10 days.
'It is the Nemesis by name and it will be the nemesis by nature,' he said. 'With such a large coastline it is vital that the NSW Police Force remains vigilant to the threat of sea-based organised crime and terrorist threats.
'Those that want to engage in this sort of criminal activity through smuggling illegal drugs, weapons and other contraband should think again.'
Police Commissioner Andrew Scipione said Nemesis was a major boost to policing in NSW.
'It's a vessel that we will be expecting to use heavily in terms of crime intervention, patrolling our coast, search and rescue, and assisting with joint operational engagements with a range of different agencies,' he said.
AAP: Maria Tan (Words & Photos)
Nemesis - The largest police ship in the southern hemisphere
Feature | Trade Publication \ James Hardie 'Light Home' Magazine
Sense of Adventure
Taking the road less travelled has made all the difference for award-winning architect, Terry Hodges, writes Maria Tan.
What was originally meant to be a short trip around south-east Asia became an adventure of a lifetime for West Coast Designs owner, Terry Hodges.
As a newly qualified architect with the world at his feet, Hodges set off on an extraordinary journey around the world that still drives his passion for residential architecture and ecologically sustainable development 30 years on.
His wealth of experience now extends to numerous residential projects in multiple countries, including England, Iran, Sudan and the Sultanate of Oman.
"I spent about seven years out of the country when I was newly qualified and worked in Tehran before the revolution. I then went to London and worked on the refurbishment of Victorian working class houses before working at Khartoum in Sudan, as well as in Al Zahrani in the Sultanate of Oman doing urban design work."
"At that time it wasn't possible to go to the Sultanate of Oman on a tourist visa, there was no such thing and the only way you could get into the country was if you had work there."
"It was a huge adventure being away for that period of time and working in all those very unusual countries," Hodges said.
As he reflected on his experience abroad, Hodges told Light Home that he had spent a lot of his time overseas learning about other cultures, in order to understand the needs of his clients.
Hodges also paid careful attention to how housing forms differed from one another, before developing solutions that responded to the local climate and social fabric of each community.
"You really need to listen to your client to find out what they're looking for and what they need," Hodges explained. "That's really the only common factor in design worldwide."
Cape Rise in Dunsborough
Ultimately returning home to Western Australia, Hodges now lives in Dunsborough, where the avid surfer is often spotted carving up breaks barrelling towards his local shores.
"I used to haunt this place as a youngster, coming down here in a Volkswagen Beetle for a surf," Hodges said. "All those years later it came full circle and I ended up living down here and I just thought, 'well this place is amazing'."
By keeping his sense of adventure alive, Hodges ended up landing the Cape Rise project in Dunsborough through a friend he regularly competed against in Anaconda adventure racing events, which are a series of swimming, kayaking, running and bike-riding contests held nationwide.
"I actually knew the client, who was a builder and a friend from around town," Hodges said. "He'd gone along to a project home builder and showed me the plan and I saw what the project home builder was attempting to plonk onto the block.
"It was really sad, because as it often happens with project homes, there wasn't a lot of consideration given to the very basics of design. By that I mean climatic considerations - where north point was, the site conditions and just basic design considerations for the climate, whether it be passive solar or otherwise.
"It was really just a lost opportunity because there was this gnarly old peppermint tree out the back on the corner block, which was a bit tricky, but it would've meant that this tree would have been pulled down."
"So the builder approached me and said, 'Look, we can do a framed house on this using the Scyon range of products. Just do it on a slab and design it to really make the most of the block,'. So that's we did," Hodges said.
The West Coast Designs architect then spent time on the block to get a good feel for it, before developing a passive solar design that ticked all the boxes.
"We deliberately set out to do something with the Scyon range of products because we wanted it to be pretty minimal with modern and clean lines to it," Hodges explained.
"The builder was really keen to keep brick layers off the site and around these parts there are a lot of really good carpenters, so the builder decided from the outset that he really wanted a big carpentry camp with lightweight frame construction and we used two of the Scyon products that gave the house a good harmonious feel."
The gnarly old peppermint tree was also saved in the process and can still be admired from the alfresco area added to the Cape Rise design for the client and his family to enjoy.
"He's just over the moon and just loves it so much. He loves how the house works for entertaining and there's a really good separation between the teenage kids' bedrooms and living areas, so that means everyone can live harmoniously without getting on each others' nerves," Hodges said.
"It's a really good success story because the client's really happy and everyone who sees the house thinks it's a nice looking place."
Yallingup winner
Winner of the WA Building Design Award is the house in Yallingup that Hodges designed for a local builder in 2008, which was built on a two hectare block with northern bush and ocean views.
"It's on a bush block similar to the one I live in. It had a north aspect looking out over the trees and he was really clear about what he wanted," Hodges said. "It was really good working directly with the builder in designing his own house and it was a close collaboration."
"He wanted a house that was really zen like and modern, with a skillion roof which was softened by the use of local natural materials," Hodges recalled.
Passive solar design principles were used for the Yallingup project to create an energy efficient house that was comfortable enough for all seasons.
"It's really all about the basic principles of passive solar," Hodges said. "It's about having the house orientated correctly to get that good cross ventilation while taking into consideration the western sun and keeping that out in summer.
"It gets pretty hot in the area and you don't want this huge area gazing from the west. The east is far more amenable with the morning sun, so it's all about getting the north right and sometimes you've got projects where you've got a spectacular views to the sun so you've got to let that in a bit as well.
"There's a race on now to get as many stars as you can in the energy stakes but it really all starts with the very basics of orientation. If you get that right, then half the battle is over. From there you build in good amounts of insulation of course, but you can already achieve such a lot with basic design."
Hodges also incorporated large areas of glass at a northern elevation, in order to bring the bush into the main living areas.
"Although it's a framed house, we've got panels of local granite stonework dispersed throughout the project and you've got the beautiful warmth of timber floors as well as the timber decking. So there were minimal, modern and clean lines, but it had a warmth to it through the use of these gorgeous natural materials."

The perfect setup
Hodges' latest residential project is on the Malaki Peninsula in the City of Albany, overlooking the Wilson Inlet towards Denmark.
"This block on the Malaki was a perfect setup," the architect said. "It was a large block and just about every single major room fronted the north and that's where the views to Wilson Inlet were."
"It's such an easy setup when you've got a block like that because you can have major areas of glass on the north and a long narrow building to minimise the amount of glazing to the south."
Scyon Matrix and Stria cladding were used on the northern and eastern sides of the Malaki home to provide a contrast to the overall look of the facade.
"Stria was a good way out for us because for some reason or other the clients didn't like the weatherboard look," Hodges explained.
"I personally love the Linea and the heavy shadow lines that it gives and it looks so close to the old weatherboard because of its good thick profile.
"Stria was a great compromise because it's in one flat plain and it's got the horizontal lines, so we used it as a contrast against the areas where we used Matrix a lot."
With the client's needs met, the West Coast Designs owner then used Stria cladding for the bedroom suite located in the eastern pavillion of the Malaki house.
"Stria was handy there. It was acceptable to the client because it had a nice horizontal feel to it but it didn't have the heavy shadow lines that we would have got with the Linea," Hodges said.
Different climactic zones between Dunsborough and Denmark also posed design challenges that Hodges had to tackle head on.
"Down in Denmark it's climatic zone six, whereas around Dunsborough and Busselton it's climatic zone 5. With a house with this much north facing glazing in it, in climatic zone 5 it would've breezed through the minimum 5-star rating that we had to get.
"Because it's in climatic zone 6, we actually had to start to tweak glazing and materials in order to get our 6-star rating.
"We had to introduce solid walls internally as thermal mass and in a couple of areas we had to use double glazing in order to get the required minimum rating, so it really surprised me just how different the requirements are in terms of designing for climate."
Feature | Union \ Sydney Alliance
Lost in translation
SYDNEY, May 23, 2012 (NSWNMA: Maria Tan) - Cultural differences can lead to a dialogue of the deaf.
The nurse walked away in disgust, appalled at the offence the patient had caused.
The man, now wincing in agony as he sat on the emergency room bed, could not control himself from yelling any longer.
The patient continued to point, as he loudly proclaimed to the hospital staff: "Suck it! Suck it!"
To the untrained ear, the word Sakit in the Visayan and Tagalog dialects of the Philippines could easily be mistaken as an English language profanity, but for interpreter and translator Rolando Tan, his multilingual understanding was the key to unlocking the language barriers that were impeding communication.
"The man had simply been trying to tell the nurse where the pain was on his upper thigh, and in that context, the word Sakit meant painful," Rolando explained.
"I'm able to bridge the communication problem between two parties," Rolando said.
"As an interpreter I've learned how helpless it can be for people who have little to no understanding of what's being talked about. They cannot communicate and they won't be able to let you know what they want to say."
The 60‐year‐old accepts a broad range of medical interpreting assignments throughout Sydney and also translates health care information for dissemination to multicultural community groups.
"I get hired by the government and other agencies to go to different places like hospitals, doctors' offices, nursing homes and health care centres to interpret for refugees and migrants," Rolando said. "No two days are ever the same."
Although Rolando finds his role as an interpreter rewarding, this father of three is also, at times, the bearer of bad news.
"It's sad when the client I'm interpreting for is dying or sick," Rolando said. "I have to stay quiet and composed, and tell myself not to cry, not to feel sad, and just do my job."
It's easier said than done, Rolando admits, as he recalls an emergency assignment during December last year when he interpreted for a patient who had suffered a heart attack.
"I left the hospital with the message that the patient was waiting for their son and daughter to arrive from the Philippines. The following day, I met the social worker that had attended to the patient, who told me that the patient had died that night. The son and daughter had arrived that day, but their father had already died."
Rolando believes that time is of the essence in his line of work, especially in emergency situations where vital medical information has to be communicated both quickly and accurately.
"I can understand how hard it must be for nurses in emergency wards who have to work fast without compromising patient care. I have a great deal of respect for their responsibilities and I enjoy working with them to achieve strong outcomes."
——————————————————————————–
The Sydney Alliance brings together diverse community organisations, unions and religious organisations with the aim to advance the common good and achieve a fair, just and sustainable city. The Sydney Alliance is non-party political. www.sydneyalliance.org.au
(Words & Photos: Maria Tan, NSWNMA)